Virginie BELTRAN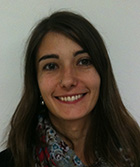 Fonctions
Attachée de recherche clinique
Contact
Rattachement
SANPSY - Equipe Addiction
Diplômes
2006 : Diplôme de Statistique Appliquée à la Médecine (Centre d'Enseignement CESAM) options Méthodologie Statistique et Epidémiologie-Principes et méthodes quantitatives, Université Pierre et Marie Curie Paris 6, mention TB.
2003 D.E.S.S. de Neuropsychopharmacologie et Toxicomanies, Université Bordeaux 2, Bordeaux, mention TB.
Thèmes de recherche
Addiction aux substances / Addiction comportementale

Articles
2016
Usefulness and validity of the modified Addiction Severity Index: A focus on alcohol, drugs, tobacco, and gambling

. In Substance Abuse, 37 (1): 168-175, 2016. doi
2015
Risk-taking behavior over 36-month follow-up treatment in outpatient opioid maintenance treatment program

. In Drug and Alcohol Dependence, 146: e258, 2015. doi

Impact of 20 years harm reduction policy on HIV and HCV among opioid users not in treatment

. In Drug and Alcohol Dependence, 146: e261, 2015. doi

Association between morningness/eveningness, addiction severity and psychiatric disorders among individuals with addictions

. In Psychiatry Research, 229 (3): 1024-1030, 2015. doi
2014
10-years outcome of methadone- and buprenorphine-maintained patients. Mortality, quality of life and substance use

. In Drug and Alcohol Dependence, 140: e8, 2014. doi
2013
Changes in Sleep Quality in Opiate-Dependent Subjects in Methadone and Buprenorphine Maintenance Treatment over a 12-month period

. In Heroin Addiction and Related Clinical Problems, 15 (1): 39-44, 2013.
2012
Validity of the Self-Reported Drug Use Section of the Addiction Severity Index and Associated Factors Used under Naturalistic Conditions

. In Substance Use & Misuse, 47 (4): 356-363, 2012. doi
In Proceedings
2011
Comorbidités psychiatriques chez les consommateurs de tabac. Etude transversale sur les consommateurs de tabac reçus au CSAPA BIZIA à Bayonne de 2006 à 2010

.

In 5èmes Journées de l'Albatros, Congrès international d'Addictologie

, Paris, 2011.